We are a full-service residential roofing and construction company committed to delivering outstanding results to our customers. We proudly offer a 100% complete satisfaction guarantee with all of our roofing services!
D&M Roofing is Kansas City's expert in Roof Coating Solutions!
Roof coatings can help manage the extreme heat of summer and the cooling of winter. From retail spaces, farm silos, warehouses, or industrial locations, roof coatings provide a low maintenance, reliable, and energy efficient solution for owners and property managers. Commercial elastomeric roof coatings can work for any size commercial or industrial building type. Elastomeric Coatings can be applied on all roofing surfaces and can extend the life of your existing building. Let D&M Service Group come out for a free estimate!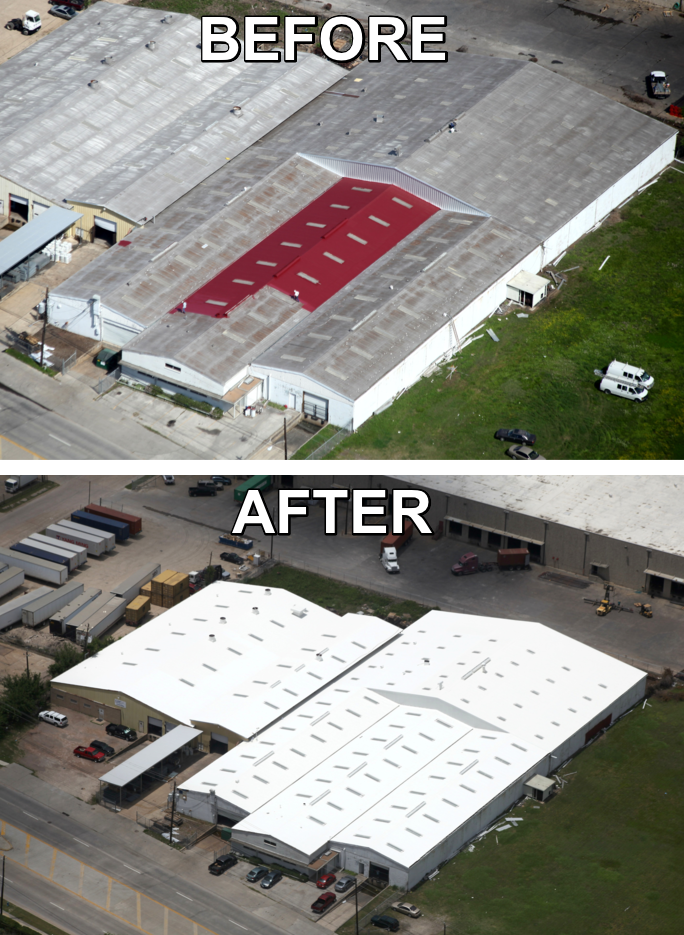 Advantages of Roof Coating Systems:
1. Fully Restored, Seamless, Weatherproofing System – Roof Coating Systems are monolithic liquid applied membranes that are spray or rolled applied across your roof, around pipes, hatches, and other equipment found on the rooftop to fully seal and waterproof your roof. When sprayed, the coating cures together, so there are no seams, or patches around those hard to seal and reach areas.
2. Cost Effective – Systems are 40-50% cheaper than a tear-off. Roof coatings are applied directly on top of your existing roof, speeding up installation time and reducing costs, as the systems are not as labor intensive as the installation of a new roof. A roof restoration system does not require the existing roof to be torn off, eliminating the contribution of landfill waste and costing you less, as you do not need to pay landfill fees.
3. HVAC Savings – We can save you up to 35% on your energy bills by turning your black roof to white, creating UV reflectivity and lowering air conditioning wear and tear. This additional protection adds years to your roof and reduces roof maintenance costs. Highly reflective roof coatings also deliver a cooler and more comfortable environment inside the building with less air conditioning usage, ultimately lowering your energy utility costs.
4. Sustainable – These systems are renewable and can be re-coated every 10+ years to lengthen the roof-life, renew the reflectivity, and ensure excellent waterproofing capabilities. Some systems can offer 20 year warranties.
5. Environmentally Friendly – Restoring your existing roof and reusing the current materials drastically reduces landfill waste and improves the environment. Many of our coating contain ultra low or zero VOC's and can qualify for the US Green Building Council's LEED program for Sustainable Sites, Energy and Atmosphere, and Materials and Resources.
6. No Major Disruptions to The Work Environment During Installation – A huge cost advantage to coating systems is they do not require a business to close during installation. The systems create minimal noise and have low odor (often zero VOC's), allowing you to conduct business as usual with less disruption to the occupants inside the building. Installing a new roof can take upward of a few weeks, costing business owners a great amount of revenue loss while their business is closed during the installation process. Restoring your low-slope, commercial roof is far cheaper, quicker, and is much less disruptive to your buildings' occupants than completing a traditional roof tear-off and new roof install.
Why D&M Roofing for your Coating needs?
Experienced crews to assess and make the right system for you. We don't want to put "good on bad."
Experience with multiple chemistries of coating systems to identify what is best for your roof. No "magic in a bucket" systems for every roof.
We have access and relationships with all major coating vendors. We will get you the best price and best warranty for your roof.
Limited disruptions. We can coat on the weekends or outside hours of business if necessary.
We will work with you on possible tax and government incentives. Let us find out if we can save you money. Coatings will have immediate tax advantages verses tear offs.
Maintenance Programs. We can provide annual programs to keep your roof clean and free of debris. Let us stay in front of your possible roof issues.